APRIL 2007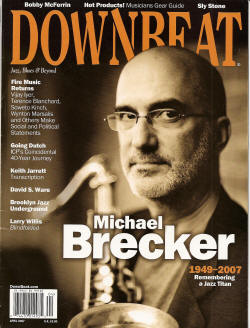 Players: Paoli Mejias - Transcending Expectations
Aaron Cohen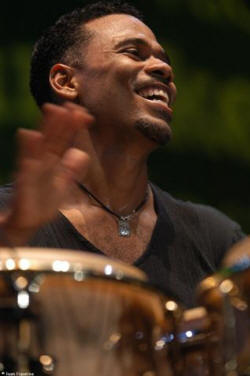 When Paoli Mejias unpacks his gear to perform, he stands out from most other Caribbean percussionists. He uses four congas rather than the customary two.
"It's not normal," Mejias said of his small arsenal just before a concert at Chicago's Old Town School of Folk Music. "But I play a lot of different types of rhythms, so that's the best way for me to get at them. To improvise and create the different colors that I'm looking for, it's easier with four."
Making musical leaps seem like easy steps has been a hallmark of Mejias' music for some time. His 2006 disc, Transcend, is an impressive follow-up to 2004's Mi Tambor (both on his own label), as he mixes the sounds of Indian tablas and Mediterranean drum patterns with the rhythms of his home in Puerto Rico. These ideas also come from the new compositions that he commissions from such colleagues as saxophonists Miguel Zenón and David Sánchez. The technique that he honed alongside some of the biggest names in Latin jazz forms the base for Mejias' upbeat explorations.
Born outside of San Juan 37 years ago, Mejias heard Puerto Rican folkloric bomba and plena everywhere when he grew up. Yet even early on he gravitated toward different (albeit connected) musicians like the Cuban experimental group Irakere and New York salsa ensemble Fania All Stars. His family was unable to afford instruments, let alone lessons, and Mejias had a paper route to buy his first conga.
"Playing music professionally wasn't a tradition in my family", Mejias said. "But that made me more determined. It's always been an upward challenge, but a battle helps me focus. I know what I'm up against."
At the same time, a number of established musicians helped Mejias early on. Puerto Rico-based Afro-Cuban batá drummer José Ramírez recommended the young percussionist to Eddie Palmieri. Mejias debuted with Palmieri's band at New York's Blue Note around his 21st birthday.
"It was an amazing opportunity because Eddie asks his percussionists to improvise and there's a lot of focus on percussionists in his group," Mejias said. "The more I was in that environment, the more I wanted to learn because there was so much to internalize."
Such a high-profile gig led to other opportunities as a sideman with a cross section of popular bandleaders, including Tito Puente and Marc Anthony. As Mejias spent more time traveling and absorbing many different idioms from around the world, he planned on incorporating those ideas for his own music. yet even with such accolades as a Latin Grammy jazz nomination for Mi Tambor, Mejias still faces some expectations that his music should primarily appeal to the feet.
"There are two major challenges right now," Mejias said. "Relatively few percussionists have become jazz leaders. And it's a challenge to get people to accept and demand a new style, as I try to play with different rhythms, whether they're in 7/8 or from Greece or India. With the traditional Latin jazz of Mario Bauza, the focus was on the dancer. But if people want to start dancing to my music, that's OK."
As Mejias contemplates making a permanent move from Puerto Rico to New York City, he knows that the resulting increase in opportunities carries a considerable price tag.
"New York is a beautiful place, but it's so expensive," Mejias said. "I'm going little by little. It's just one more challenge."